SMALL RUMINANT COLLABORATIVE RESEARCH SUPPORT PROGRAM
(SR-CRSP)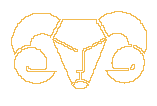 ANNUAL REPORT
1996
Sociological and Economic Analysis of
Small Ruminant Production Systems
SR-CRSP home page
---
Corinne Valdivia and Michael F. Nolan, Principal Investigators
---
University of Missouri-Columbia (MU)
in collaboration with
The Kenya Agricultural Research Institute (KARI)
and
The Bolivian Institute of Agricultural Technologies (IBTA)
December 1996
---
Collaborating Scientists:
in Kenya:
A. N. Mbabu
M. Lutta
W. Njoroge
F. Asambu
E. Wekesa
in Bolivia:
Christian Jetté
Jorge Céspedes-Estévez
in the U.S.:
D. Sheikh
G. Njeru
N. de Haan
D. Martínez-Castilla
J. L. Gilles
Collaborating Institutions in the U.S.:
Texas A&M University
Utah State University
Washington State University
Winrock International
University of California - Davis (Management Entity)

---
ACKNOWLEDGMENT
This publication was made possible through support provided by the Office of Agriculture and Food Security, Global Bureau, United States Agency for International Development, under the terms of Grant No. DAN 1328-G-00-0046-00. The opinions expressed herein are those of the authors and do not necessarily reflect the views of the U.S. Agency for International Development.